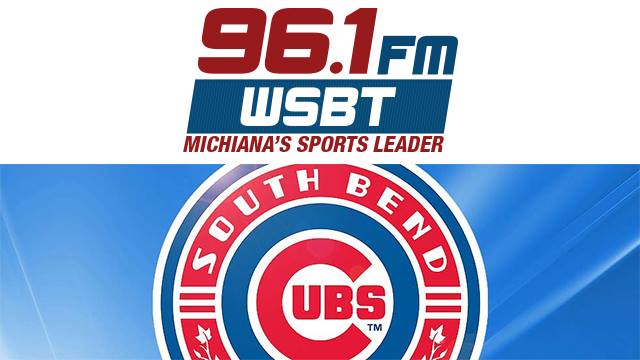 South Bend Cubs press release:
SOUTH BEND, IN – For the first time since 2016, the South Bend Cubs have clinched a spot in the Midwest League playoffs, and game one at Four Winds Field between the Cubs and Bowling Green Hot Rods is set for 7:05 PM on Wednesday. You can hear the broadcast on 96.1 WSBT, The Sports Leader.
After a long battle between Bowling Green and South Bend for the top spot in the Eastern Division, the Hot Rods came out on top by winning game one of the final regular season series on Saturday night. South Bend, however, went on to win the final two games of the series. Bowling Green will host game two of the playoff series, and game three, if necessary.
Tickets for game one are on sale now. Dugout box seats are $14 and field box seats are $12 in advance. Ticket prices will go up one dollar on the day of the game, so fans are encouraged to purchase their tickets in advance. Tickets can be purchased at the South Bend Cubs Box Office, by visiting SouthBendCubs.com, or by calling (574) 235-9988.
On top of the postseason atmosphere, fans will be able to enjoy Thirsty Thursday drink specials for game one of the playoff series on Wednesday. Fountain sodas (20oz.) and domestic draft beer (16 oz.) will be available for $2.00.
The full breakdown of the Midwest League Postseason schedule is posted below:
Round 1 – Division Quarterfinal – Best of 3 (September 4 – 6)
Series #1 – Eastern First Half Champion (Great Lakes Loons) vs. Eastern First Half Wild Card (Lake County Captains)
Series #2 – Western First Half Champion (Quad Cities River Bandits) vs. Western First Half Wild Card (Cedar Rapids Kernels)
Series #3 – Eastern Second Half Champion (Bowling Green Hot Rods) vs. Eastern Second Half Wild Card (South Bend Cubs)
Series #4 – Western Second Half Champion (Kane County Cougars) vs. Western Second Half Wild Card (Clinton LumberKings)
Round 2 – Division Championship – Best of 3 (September 7 – 9)
Series # 5 – Eastern Series #1 Winner vs. Eastern Series #3 Winner
Series # 6 – Western Series #2 Winner vs. Western Series #4 Winner
Round 3 – League Championship – Best of 5 (September 11 – 16)
Series #7 – Eastern Division Champion vs. Western Division Champion