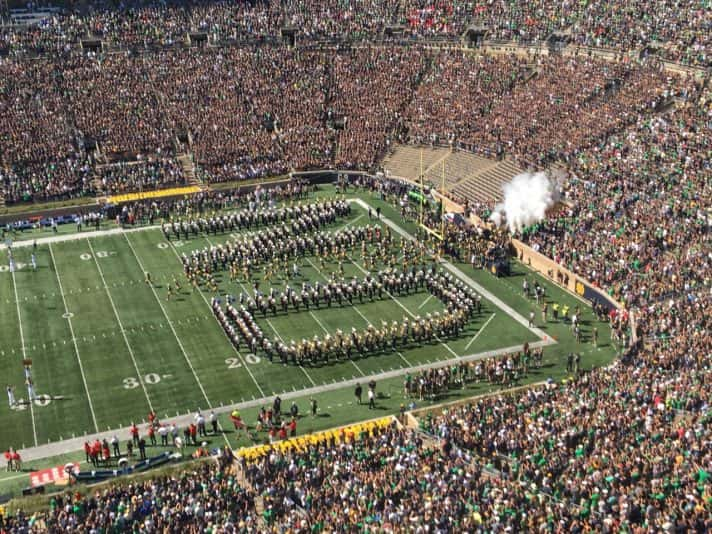 by WSBT 22 Sports
For the first time in two full years, a packed house at Notre Dame Stadium. And they got their money's worth. Toledo took the lead with less than two minutes remaining, and Notre Dame's 24-game home winning streak was in serious jeopardy.
That's when Jack Coan delivered the stuff that legends are made of.
Playing in his first game at Notre Dame Stadium, Coan led the Irish down the field in less than a minute, throwing the game-winning touchdown to Michel Mayer, leading the Irish to a 32-29 comeback win.
"I thought he was poised in the pocket and decisive with his throws in that last drive," Brian Kelly said. "That's the mark of a veteran quarterback."
"Jack was poised the entire game," said Mayer, who caught the game-winning touchdown from Coan. "He's gonna be doing that the rest of the year. He's very poised. He has a lot of experience. He can sit in the pocket and throw the ball out there. That's what we saw from him in the last series."
"We were down and I think we showed a lot of fight throughout the game," says sophomore running back Chris Tyree. "That's one thing that we can take away from this. We've got to get back to the drawing board, correct our mistakes and move on to the next week."
Notre Dame would not have won this game if not for the contributions of redshirt freshman quarterback Tyler Buchner, who came into the football game into the 2nd quarter and instantly injected a shot of life into the Irish running game. Buchner led the Irish on multiple scoring drives and threw his first career touchdown pass. He also gives Brian Kelly another weapon at the position.
"I think having them both keeps the defense off of what you're trying to do," Kelly says. "I think we can blend both of them into what we're doing. But, you know, each week is a different week. We're trying to find a way to win the game today."
Without question, Buchner's evolving role will continue to be a topic moving forward for Notre Dame. Kelly says they will continue to involve Buchner, not just in the running game, but the passing game too.
"The offense has to be certainly some run game for Tyler, but he's got to be able to go in there, and if he's in there on that last drive, we've got to be able to throw the football down the field and do those things."
Buchner's development is one of many areas the Irish will look to improve in the coming weeks.
"We are a little hesitant at times to say, 'All right, this is who we're going to be,'" Kelly says. "I think we got to stop tinkering and say, All right, this is it; let's go. We're in a transition, and as I told the guys had the locker room, starting Monday we have to make it simpler for everybody."
The Irish fell three spots in the Coach's Poll, to 10th, and four spots to 12th in the AP poll, both released Sunday, after Saturday's games.
The Irish host Purdue this Saturday, with complete game day coverage on Sports Radio 960 AM WSBT.