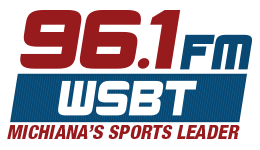 There's a lot going on in sports this weekend.
The Mishawaka Cavemen are in sectional football play tonight (Friday) at Elkhart Central. Game time is 7:00 on 96.1 WSBT.
Also tonight, Notre Dame women's basketball's home opener at Purcell Pavilion features a pre-game Ring of Honor ceremony for former player Natalie Achonwa. Tipoff for Notre Dame against Loyola Maryland is at 6:30.
Saturday, the Irish men play their home opener against Robert Morris at Purcell Pavilion. Darin Pritchitt has the call starting at 11:40, with tipoff at noon on 96.1 WSBT.
Following that game, we begin pre-game football coverage leading up to 15th ranked Notre Dame's Saturday night game at Duke. Kickoff is at 7:30 on your home of the Irish, 96.1 WSBT, The Sports Leader.
Other Saturday college football games: a matchup of undefeated Big Ten teams, 4th ranked Penn State at number 17 Minnesota at noon; Purdue at Northwestern (noon); Michigan State hosts Illinois (3:30).
Sunday, the NFL schedule includes the Chicago Bears hosting the Detroit Lions at 1:00 p.m., on our sister station Z 94.3. The Indianapolis Colts play at home against the Miami Dolphins at 4:05 on 96.1 WSBT.
In the NBA: the Indiana Pacers host the Detroit Pistons tonight (Friday). The Chicago Bulls are at home Saturday night against the Houston Rockets.
In hockey: the Red Wings host the Boston Bruins tonight in Detroit. The Chicago Black Hawks play Saturday night at Pittsburgh.