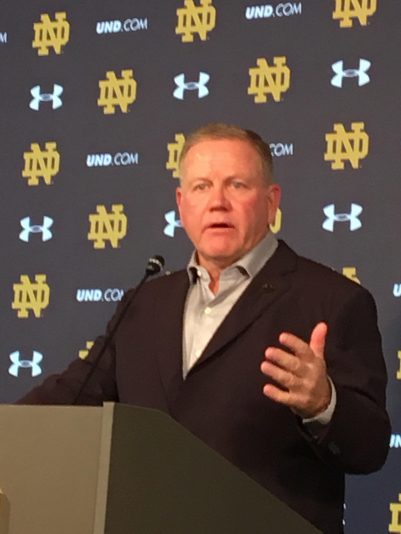 by WSBT 22 Sports
Brian Kelly was named the Home Depot national coach of the year Wednesday!
This is the third time Kelly has won this award.
He won it in 2009 at Cincinnati and in 2012 at Notre Dame.
Kelly is the only one to win it more than once.
Just like he did in 2012, Kelly led the Irish to a perfect 12-0 season, and he made some critical moves along the way.
Most notably, he promoted Ian Book to the stating QB spot.
On Sunday, WSBT spoke with Kelly following the playoff announcement. When he'd heard about Dabo Swinney's endorsement, Kelly proclaimed that his Clemson counterpart was also deserving.
But he also said that winning awards like this isn't what motivates him.
"There are a lot of deserving candidates," said Kelly. "I didn't get into this business to get Coach of the Year, so that's great that he said that. I think he's done an incredible job. I think Nick Saban has done an incredible job. It's like our players: If they came in here and said, 'I'm only in it to get the Heisman,' we would be like, 'Okay, well, what about team awards.' I'm more interested in our guys winning an actual championship."
Kelly will receive the Home Depot Coach of the Year award tonight (Thursday) on ESPN.
Today, he was also named one of seven finalists for the Dodd coach of the year award. The other three coaches in the college football playoff are also finalists.