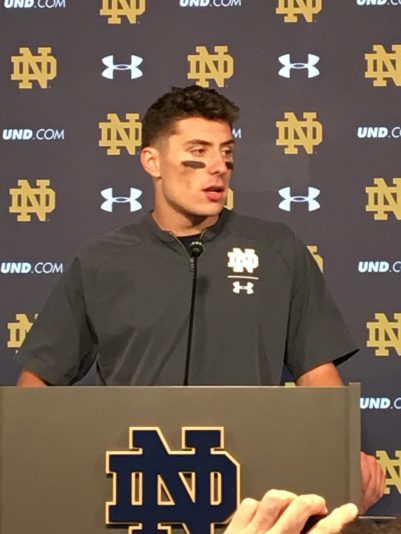 Multiple sources are reporting this morning that starting quarterback Ian Book will be out for Notre Dame's home game against Florida State this Saturday night.
They report that Book suffered injuries to his midsection, including ribs, during last Saturday's 31-21 win at Northwestern. Those injuries, we're told, have not healed sufficiently to allow him to play this week.
Book's injuries bring the experienced Brandon Wimbush back as starting quarterback. While less sharp as a passer, Wimbush is a strong runner who has led the Irish to multiple wins, including early this year against Michigan, before he yielded the starting job to Book.
Coach Brian Kelly will address the quarterback situation in a press conference this afternoon (Thursday), and on the Brian Kelly Show tonight at 7:00, this week only on our sister station Z 94.3, because of Notre Dame basketball coverage at the same time on 96.1 WSBT.