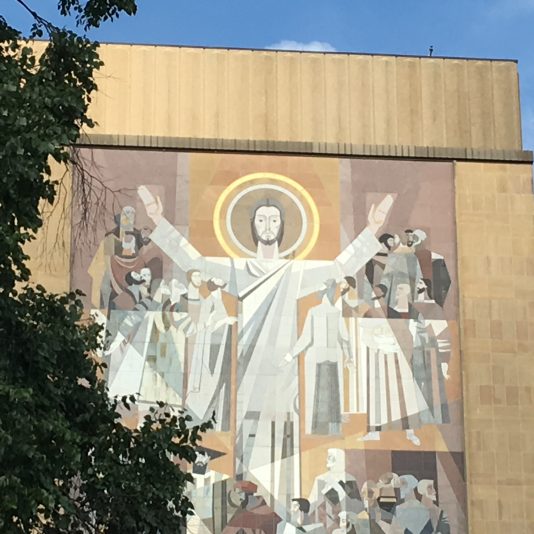 by WSBT 22 Sports
Pitt has a history of upsetting Top 5 teams.
The Panthers beat Miami last season, when the Canes were ranked No. 2 in late November. The year before, they beat No. 2 Clemson.
And they nearly did it to Notre Dame in 2012, when the Irish were 8-0, and ranked 3rd. Notre Dame needed a triple overtime effort to escape with 3-point win their championship hopes nearly dashed.
None of the current Irish players were apart of that team, but they are well aware, that Pitt could play the spoiler.
"Knowing Pitt as the giant-slayers that they have been for awhile now, " Senior center Sam Mustipher added, "You can't take a Coach Narduzzi team lightly. I know at MSU, those were some of the most physical games guys played in. I had the opportunity to play at Heinz Field my redshirt freshman year and theyr'e a physical hard nosed team. They're not going to quit. They're not going to give up."
Senior wide-receiver Miles Boykin said, "If we're not playing our standard we can get beat by anybody in the country, it doesn't matter who. We're going to get their best and we have to be prepared for it."
Thanks in part to the team's 6-0 start, a pair of Notre Dame football players is now under consideration for some pretty big awards.
Ian Book was named to the mid-season watch list for the Maxwell Award, which goes to the top player in college football.
It's pretty impressive, considering the junior quarterback only has three games under his belt.
According to Notre Dame, Book is believed to be the first quarterback in nearly 70 years to complete seventy percent of his passes in three-straight games, not to mention his first three games as a starter.
Julian Love was named to the Chuck Bednarik Watch list, which goes to the top defensive player in college football.
Love delivered another huge play last Saturday, scoring on a 40-yard fumble return.
So far this season, Love is the only player in the country with at least 10 pass break ups, three fumble recoveries, an interception and a defensive touchdown.
"I think we're only as good as our next game," said Love after defeating the Hokies. "We have Pitt coming up and that's a big game. That's the biggest game of the year because it's the next one. We're going to attack and we're going to keep doing what we've been doing and improve on the little details that we need to improve on."
3-and-3 Pitt visits 6-and-0, 5th ranked Notre Dame this Saturday. Complete game day coverage is yours starting at 9:00 AM; the kickoff is at 2:30 on your home for Irish football and men's basketball, 96-1 WSBT!