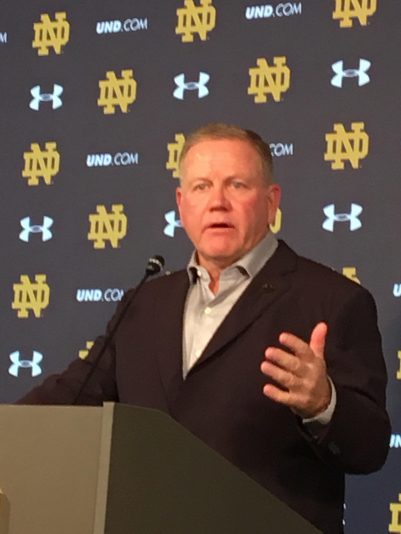 by WSBT 22 Sports
Notre Dame navigated the raucous environment of Lane Stadium last weekend, pushing their record to 6-0, and into the top five in both major polls.
The victory garnered plenty of attention to the offense who scored four second half touchdowns in the 45-23 rout of the Hokies.
But that likely wouldn't be the case if it weren't for the Irish defense.
As the first half was closing, the Irish offense was sputtering until Julian Love made one of the biggest plays of the game. Returning a fumble 42 yards for the touchdown.
The Irish offense exploded from then on while the defense held VT to just seven second half points. A feat that illustrated the kind of complimentary football Brian Kelly has wanted to see from his team for a long time.
"We've struggled with that in my time here of complimenting each side of the ball, and we're beginning to do that much better. We saw that today. Julian Love's pick and score, we were kind of wobbling a little bit offensively. We needed that momentum. That gave us a big shot in the arm to come back out in the second half and play pretty good offense," said Kelly.
WSBT 22 asked "When your defense is able to shut teams down the way they do, can you see that take its toll on the other team?"
Miles Boykin replied "Definitely, 100-percent. It's just, when you have a defense like that, you don't have any pressure on you. Obviously we want to go out there and score on every play, but if you don't you're like, we know the defense is going to come back and get the football. So that's really huge for us."
The Irish will head back home to take on Pittsburgh this Saturday.
Complete game day coverage is yours starting at 9:00 AM, with the kickoff at 2:30 on your home for Irish football and men's basketball, 96-1 WSBT.